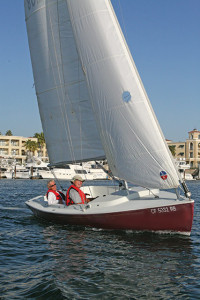 The Harbor 20 is a great alternative to the Lido 14 for beginning students who prefer the stability and comfort of a keelboat. The Harbor 20's cockpit easily accommodates three students and an instructor and no one needs to sit on the rail to balance the boat, or duck under the boom when tacking. Deep coamings provide comfortable back support.
All halyards and lines are let below the deck where they lead to hardware mounted on a shelf at the aft edge of the cuddy cabin. This design keeps everyone in the cockpit, the deck clean, simplifies sail control, and allows sailing to become second nature.
The Harbor 20 was designed with simplicity in mind and a competitive spirit at heart, whether you're sailing upwind or downwind.
---
 Layout & Specifications
LOA: 20′
Waterline length: 17′
Beam: 7′
Draft – fin keel: 3'6″
Displacement: 1,800 lbs
Ballast: 900 lbs
Main Sail Area: 151 sq. ft.
Jib Sail Area: 81 sq. ft.
Safety Gear: All USCG required safety gear